Our products go through the world's most comprehensive testing protocol and inspection processes to ensure they pass the tests for the full range of today's contaminants.

We have worked hard to achieve compliance with numerous, highly-rigorous and internationally-recognized quality management systems and national certification programs.

Our approach to product development is rooted in the fundamental belief in the body's intelligence and ability to heal itself.
Great things take time
Our approach to plant medicine traces back to our apothecary beginnings in 1892.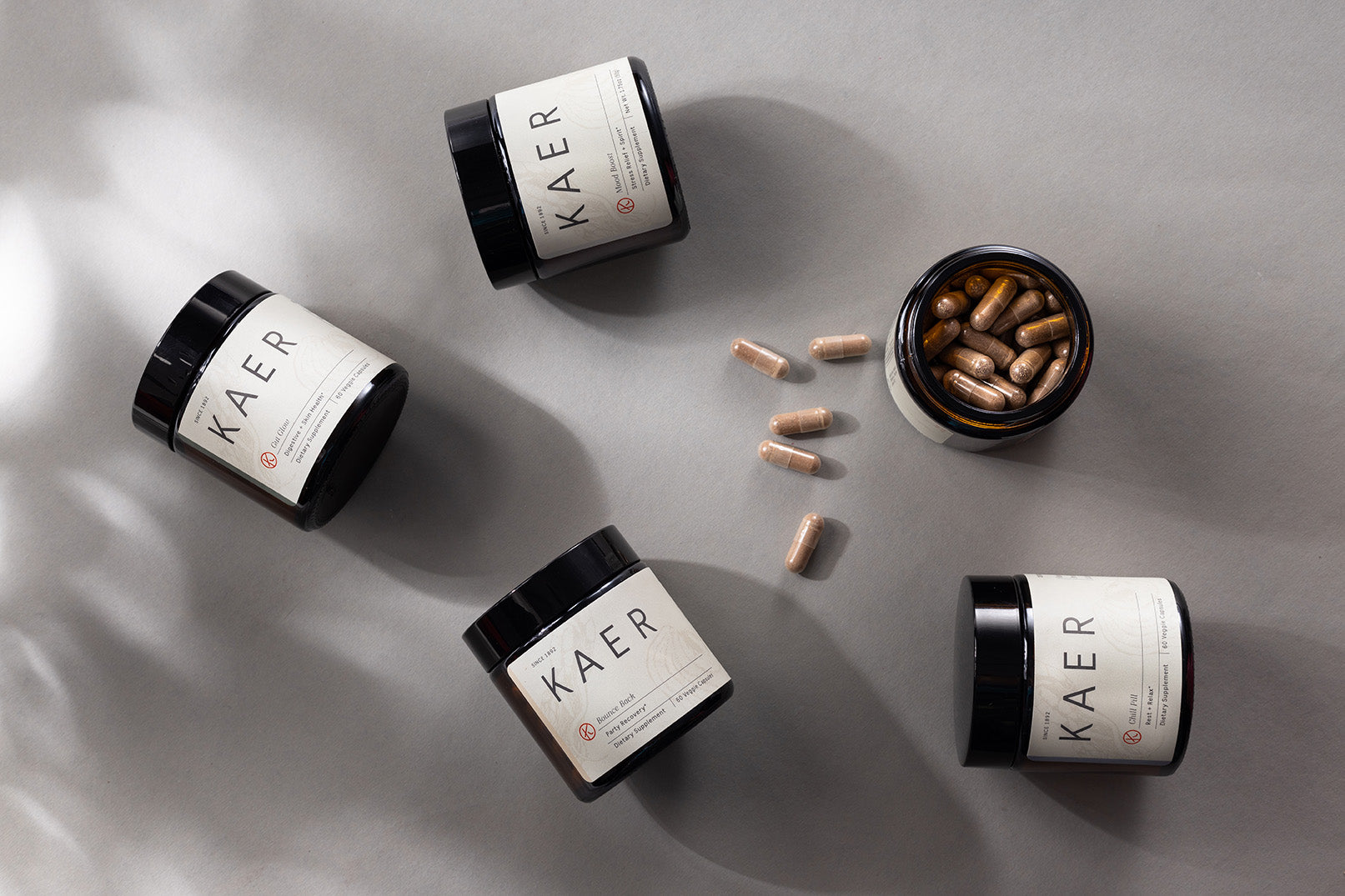 Why our expertise and quality are superior
From sourcing to distribution, cutting corners is just not an option.
"Kaer has the best herbal supplements. Power Focus really helps me power through the day."



Sarah L.
"Been trying to get off a prescription drug and replace with an herbal dietary supplement. Finally found something that works and isn't harmful."

Olivia K.
"Kaer is the best herbal supplement store. I used to get terrible hangovers the morning after drinking, but with Bounce Back, no more hangovers!"



Cameron C.
"Gut Glow has completely healed my digestive system. Ordering these natural herbal supplements again."



Chelsea P.
This herbal supplement store has almost everything that my body needs for better functioning. Feeling more confident, energetic and aware after getting their products in my daily routine.

Jamie Owen
My daily nutrition requirement was not fulfilling and it was causing disturbance in my mental health. Power Focus and Chill Pill at their herbal supplement store really helped me.

Kingsley Murray
"Kaer's herbal dietary supplements really worked for me. My digestion has improved a lot in the last month. Thank you!"

Susan J
"This is my first time using natural herbal supplements. I got Power Focus. The energy supplement has uplifted my concentration and energy levels throughout the day"

Lucia
"I started using their herbal dietary supplement for immunity building purposes. Now I really believe that natural supplements are way better than synthetic ones. "

Thomas H
Safety is the number one concern for me when it comes to herbal supplements. Kaer's transparency in their entire process is what sold me.

Bonnie S.
Herbal supplement newbie here. I've tried 2 products and so far my favorite is Power Focus.  Being able to concentrate and feeling motivated is amazing.

Marion
This is my first experience with an online herbal supplement store and they did not disappoint. Beautiful packaging and effective products.

Rachel L.
Ordering my third bottle of Power Focus energy supplement. It has magically improved my productivity to the point where I never imagined. The best herbal supplement in market. Go for it!

Jeff M.
Kaer made me believe in plants that can heal. Power Focus was the very first natural herbal supplement I tried to cope with daily exhaustion and lack of motivation. Right now, I have their three different products and all of them are delivering results exactly as promised. 

Ellie H.
The products from this herbal supplement shop actually worked for me. My first order was for their immunity booster. Going to order hangover recovery pills this time. Hoping for the same results.

Walter D.
The best natural herbal supplements so far! Previously, I tried sleeping aid supplements from 3 different brands but liked Chill Pill the most. No addiction at all. 

Sid L.
This is the first herbal supplement store where I'm impressed with every product tried. Love Chill Pill the most. 

Tara T.
I learned about natural herbal supplements from Kaer products and it is now a part of my daily life routine. No side effects- awesome all around.

Kristin L.